The 2007 National Coin Week theme "The Presidents are Coming!" celebrates the United States Mint's Presidential $1 Coin Program.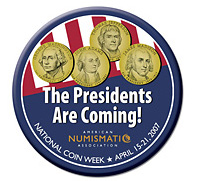 Each year during the third week of April, the American Numismatic Association celebrates National Coin Week with exhibits, presentations and other activities at civic centers, libraries, and schools to let the world know about the joys of collecting and studying coins, paper notes, and other forms of money.
Each National Coin Week has a theme chosen to engage people in learning more about money's role in culture, art, history and science.
The 2007 National Coin Week theme "The Presidents are Coming!" celebrates the United States Mint's Presidential $1 Coin Program which begins in 2007. The Mint is honoring our Nation's Presidents by issuing $1 circulating coins featuring images of the Presidents in the order they served, beginning with Washington, Adams, Jefferson and Madison in 2007.
The $1 coins feature the Statue of Liberty on the reverse; and, the mottos "In God We Trust" and "E Pluribus Unim," the date and mintmark on the edge.
Here are some additional ideas for what you can do to celebrate National Coin Week:
Work with your local school, bank or library to develop an educational display on the Presidents and associated numismatic collectibles for National Coin Week. Download and print the ANA's exhibit

The Presidents Are Coming!




Hold a numismatic Open House during April. Invite the public to attend a special educational program. Ask several club members to prepare short presentations on Washington, Adams, Jefferson or Madison. Include at least one mini-presentation on the history of the U.S. dollar.





Make mini-presentations to local Scout groups, schools, libraries, civic groups, etc. and distribute U.S. coins in 2X2 flips with interesting numismatic information about the President depected on the coin on one side of the insert and club information on the other (web address, meeting times and place, etc).





Customize a National Coin Week flyer with details about your club's events. This is an Adobe* PDF flyer with space to insert your own activities, contact and meeting information. With Adobe* Reader you just click on the white space, type in details and print.

National Coin Week Flyer



*Adobe Reader 8 is a free download at http://www.adobe.com/products/acrobat/readstep2.html.
Try these suggestions or make up your own. Remember, the fun of collecting can begin with the brand new change in your pocket!
For more information, please contact:
ANA Education Department
818 North Cascade Avenue
Colorado Springs, Co 80903
Email: education@money.org
Phone: 719-482-9872
Copyright © 2007-2009 North Hills Coin Club, all rights reserved. All design elements, images, and content are copyrighted material and may not be duplicated for any purpose without sole written consent of the North Hills Coin Club Contact the webmaster at nhcc_webmaster@yahoo.com for questions and comments.